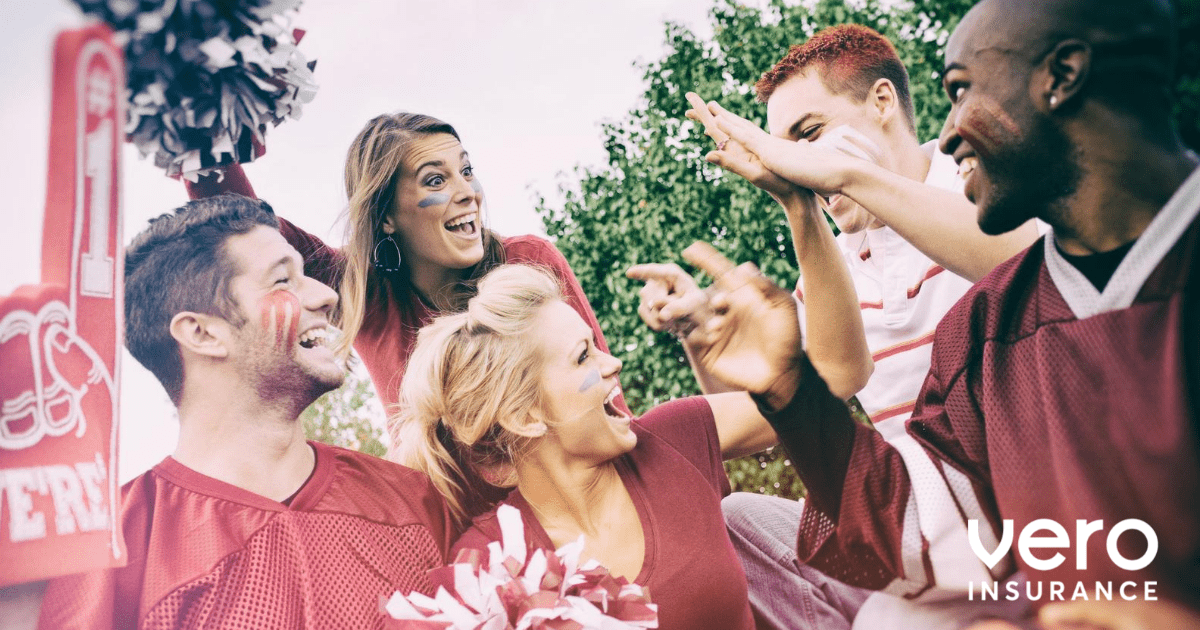 Whether you're cheering on your hometown's team or visiting a campus for family weekend, tis the season of tailgates! Tailgates are known to be great fun, but we'd like to ensure you enjoy the shenanigans without any unnecessary ruckus.
1. Stellar Sanitation
Nothing ruins a good time faster than food poisoning. Be careful to prevent cross contamination by…
Washing your hands (before AND after) handling raw meat

Using paper towels and NOT dishtowels

Bring plenty of paper plates to avoid any accidental raw-cooked overlap

Stock a cooler with just ice! (Keep that meat cool.)

Keep beverages in their own designated cooler (Those mountains should be blue and not covered in goo.)
2. Good Grillin'
Bring an instant-read food thermometer to ensure nothing is undercooked! (We really want you to avoid food poisoning.)

A fire-extinguisher is always a safe bet, and it will come in handy no matter how seasoned your grill master is
3. When in doubt, toss it out!
We all hate wasting food, but if you're unsure just how long those hot dogs have been off the grill – TOSS 'EM. You also made sure to bring plenty of paper plates and paper towels so if something is questionable, don't risk it. (But – of course – utilize recycling when you can! Or any four-legged friends with tougher stomachs.)
4. Designate a Driver
Whenever attending a booze heavy event, designate a driver! Make sure to include non-alcoholic beverages for your DD, and also give 'em first pick when food is ready. (It's pretty unlikely you'll be Ubering or Lyfting to a tailgate.)
5. Stragglers Don't Get Left Behind
Stick together! Tailgating crowds get rowdy, and nobody needs to end up alone. Utilize a buddy system within your group. Maybe even invest in a child-leash for the friends you know will wander. (SAFETY FIRST.)
6. First-Aid Kits are Necessary
Accidents happen. When you have intoxicated individuals getting hyped for their favorite teams around grills, the risks are high. Be prepared by making sure you always have a first-aid kit (fully stocked) with you! A band-aid, an ice-pack, or a pair of tweezers might be exactly how someone makes it through the tailgate to enjoy the game within the stadium!
Cheers to Tailgating Season! Keep it safe! And here's hoping your team takes the W!
Interested in learning more about Special Event insurance, email us at hello@veroinsure.com or call 773-945-9000.
Vero Insurance is a niche broker with a focus on providing insurance placement and risk management services to high-income families. Here at Vero, we love to provide you with exciting and fun articles to learn more about insurance and how it impacts your life. Visit our other blogs to find more information.
While Vero does offer a wide variety of personal insurance coverages, our main coverages include personal umbrella insurance, auto insurance, and homeowner's insurance. To find the best coverages for you and your family, use the contact form below so you can be at ease knowing you're covered. If you're looking for commercial insurance, please visit Worthy Insurance.